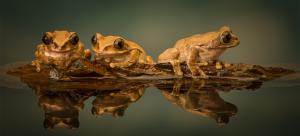 Sussex Photographic Federation PDI Championships was held on Saturday 16th November.
We were competing against 19 other clubs with quite a mixture of images entered. There was some good wildlife work around the clubs, some landscapes, a few surreal and created images, and a few rather ordinary images. These were the ones that Anne and I looked at each other, wondering why they'd been entered in an external competition. Scores were out of 20 for each of three judges, giving a maximum total of 60. This wasn't achieved by any of them, the highest score being 58 for two entries. The lowest score was 39 (an average of 13 per judge).
The morning was a fairly dry, but prompt affair, with the PDI going up on the screen and its title read out. The three judges then entered their scores onto tablets, and the title, club and score was read out as the display moved to the next image. Each was seen for a very short space of time, so those with impact seemed to do well.
In the afternoon session, Anne and I were joined by Martin. Each club's images were split into two panels of six, and one of the three judges commented on two. Thus we had comments on four of our images. The judges were Royston Williamson, who we'd just met in our first club competition, Kirsty Ralfs, who commented on our first panel, and David Smith, who made some very clear comments. I was hoping that he'd speak on our second panel, but it wasn't to be, and that was done by Royston. However, we'll be seeing David as our speaker at our next meeting.
Anne Nagle's Peony was the very first image of the competition, and started proceedings with a very creditable 51. Going one mark better was Common Blue Butterflies Mating from Derek Grieve at 52. Martin Tomes' Number 76 and Winter Misty Morning from David Seddon all scored 50 marks. Anne's other image, Sent to Coventry (previously known as Three Frogs) was our highest score at 55, and chosen by Kirsty for comments. She felt that the subjects were beautifully sharp and tones beautifully rendered. It was not only a technically perfect photograph, the composition and title also interjected a story.
Her other image for commentary was Sunset Abstract from Liz Barber (49). She loved the way it was all about the feel and the mood, with subtle tones and shapes giving a feeling of light and movement. It allowed her to get involved in the image, which was good because the emotional side of photography is incredibly important.
The first of Royston's two selected images were Loch Eil by David Seddon (47). He felt the landscape without the top of the hills worked well, although he might have cropped more off the top. The reflections and colours of the bottom half were "to die for".
Osprey Catch from Kevin Harwood gained a 50. I was very excited at first when an Osprey photo scored 58 in the first half, before realising it wasn't Kevin's one, which I think suffered for coming later in the day than the overall Silver Medal winner. Royston said Kevin was lucky to catch the bird with prey (I suspect that luck didn't really come into it). The bird was "as sharp as you like", and well placed in the frame, with good colours throughout, and a really good out of focus background.
Our other scores were:
Happy Urchins Janet Brown - 48
Intimacy Andy Jones - 45
Rain Squall Passing Through Liz Barber - 48
Deluge Chris West - 48
Well done to all for representing Storrington CC, and to the overall winners, Mid Sussex CC, who retained their title.