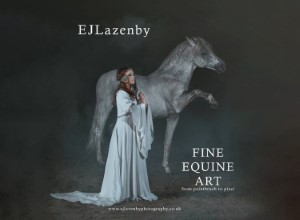 E J Lazenby BA LRPS ASEA DPAGB AFIAP BPE3 QTFE(2) AMPA
An eloquent speaker with impressive distinctions graced our Zoom meeting with the largest collection of equine photographs we have ever seen. Jane Lazenby was obsessed by horses and photography and combined them brilliantly. She dedicated the presentation to her ginger horse that she cherished for 26 years until it died.
Her horse obsession began at an early age despite the fact that she was allergic to horses. Forced to stay indoors she drew and painted horses and collected models of them. Her first ride was on a donkey wearing swimming goggles, and she acquired her first horse at age 14. She studied art at university around which time she bought an "off the track failed racehorse". She also began to study darkroom photography, but it was cut short by a reaction to the chemicals as was sculpture, life studies and oil painting for similar reasons. Forced to isolate she turned to portraiture of both people and horses. She also acquired the knack of creating pretentious title for her work.
After early success in a UK art competition Jane entered a competition in New York but was unsuccessful in selling any paintings. Undaunted she began a business in fine art animal portraits in a figurative style that did not extend to hyper-realism. Her photography started as she looked for scenes that she wanted to paint. An early example was from the Beamish Museum where she took a photograph of a man holding a horse and created a painting from it. She fell foul of copyright law when she painted an image copied from a magazine but was educated rather than sued by the copyright holder when she put the painting in an exhibition.
Initially she offered free photography, after being given terrible photos for commissions. When customers preferred taking a photographic print rather than a painting Jane realised that she needed to perfect her photography technique. Better reference images made for better paintings even though elements of the paintings were created rather than copied. She played with colours to enhance the final product. She took up teaching art to adults. The birth of her daughter inspired her to go digital and learn Photoshop which led her to create manipulations to paint rather than to print. In 2011 she created 111 paintings in 100 days as a personal challenge experimenting with colour and poses. Most were of horses and whilst they were not painted to be sold she sold 82 of them.
Copying and commissions became boring and Jane began her creative photography, giving images a narrative, displaying natural behaviour, the bond between rider and animal and the fall of light. She began painting stories from the changing of draught teams to a side-saddle judge riding in to inspect the horses and a resting dog image into which her sofa had been photoshopped before she painted a 7ft canvas from it. Her favourite commission was Soviet Song winning the Melbourne Cup, the painting of which she sold to the winning trainer in Australia.
Her first camera club teased her about her horses, so she looked for another and found a photography workshop about dogs which she translated into horse photography. She visited the Royal Armouries in Leeds and concentrated on the horse armour. In the interval of a joust she saw white Spanish horses, the Ferraris she was looking for, and afterwards offered to paint them. Having been rejected bluntly by the owner she decided to organise a workshop for a number of photographers, so the horse owners got paid for showing their horses. This venture was successful and some of the horses formed the basis of her LRPS panel aided by a new camera club with a female president.
Salons, galleries and a little painting followed, and Jane developed a connection with stunt men on horses. She got a promo-photographer job with English Heritage. Different types of workshops followed with dancers and horses posing together with the stunt guys teaching the horses to adopt novel poses. Photography stories returned to her repertoire with not just two people on horses riding by but two lovers riding off together. Dressing people up to be photographed with a horse became a signature activity accompanies by lighting the image in the manner of a Rembrandt painting. BPE and FIAP acceptances followed, and she then entered the PAGB Master of Print in 2017 using her white stunt horses and ballet dancers.
Her studio work combined with natural shots led to composites including a World War I scene with a soldier cradling a fallen horse created from 27 layers. Confused as to whether she was a horse photographer or a portrait photographer she turned to work inspired by artists such as Mucha, Caravaggio and Rembrandt with symbolism and props. She presented a Fine Equine Art show at the Birmingham Photography Show with a live horse and model. In 2019 she had five images in the Master of Photography Awards. Master of Print followed, and more work went into galleries overcoming her snobbery about paintings as original art and she began to win awards. In lockdown she wrote a book and returned to painting. She was invited to join WIGAN 10 a club of a dozen invited photographers and the club came second in the World Cup with Jane's ballet dancer and bowing horse top scoring. In 2021 four presentations were made at The Photography Show.
It is a pity we cannot show the photos but many are on the website www.ejlazenbyphotography.co.uk.