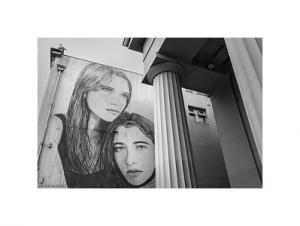 Returning to the club Rob de Ruiter ARPS gave us an insight into his interests and approach to photography over a lifetime. Fundamentally it had to be FUN! His talk contained examples of six genres:
Architecture – Museums and cityscapes
People shots
Landscape and seascape
Shaping the light
Pattern and detail
Black and white
For architecture we saw images of buildings taken from unusual angles. A seagull included in the image was almost obligatory as where possible was a human figure as in the frequently photographed De La Warr Pavilion staircase in Bexhill that was made by a single figure. The Victoria and Albert Museum offered endless opportunities for capturing artists and exhibits in interesting juxtapositions and the Royal Albert Hall and Natural History Museum were also great sources of material.
People shots these days would usually be called street photography and the wide variety of events, many held locally offered great opportunities to observe the human race. Living on the South Coast made it somewhat easier to find subject material and a view of Newhaven harbour battered by waves but taken from the sea was a different approach to that often seen. Photographing indoors should give the photographer control over the light and Rob illustrated his use of a focus stand and light box. Pattern detail brought us an image of stacked chairs also created recently by one of our own members and got us close to abstract work that is often seen as judge bait. "To see in colour is a delight for the eye but to see in black and white is a delight for the soul." So said Andri Cauldwell, the American photographer and Rob illustrated his passion for black and white.
His final thought for us fellow photographers? Stay curious!