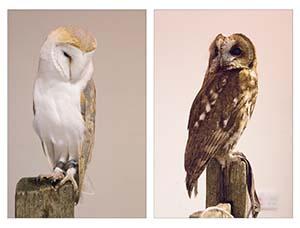 Originally an underwater videographer, Peter found the 100kg excess baggage charges with his equipment difficult, so changed to photography "topside". He travels the globe searching for that one image in his head. We were taken on a whistle-stop tour from sharks in a tightly packed defensive sardine bait ball, to crocodiles in the Okavango delta, through farmed wild species such as wolf and bobcat in America, to the Arctic for bears and the salmon run, then back home to Pete's Hampshire Hide Hire business. Two of his resident owls, Wiggy the barn owl and Oakley the tawny came along as well, much to the delight of several members, myself included.
His enthusiasm for the animals and photography was infectious. While going to great lengths to get the shot, he was also very aware of the animal's welfare. He described how not to kill your subject by spooking it and making it vulnerable to predators, equally how to behave when you were close enough to bears to smell them! He would spend hours lying down or up to his waist in freezing water, moving and retreating slowly.
Saying that a good photograph should provoke an emotion, he went out of his way to get a different image. One commissioned image required the building of a floating hide, which was towed to Skomer Island by the passenger ferry. The hide was used by Pete and another photographer to get images of puffins at close quarters on the sea. He also set up a fake burrow to get an image of a puffin entering it. Both these shots were ably assisted by Mildred, Beryl and Gladys, plastic and wooden models of puffins.
The essentials for his photography were the light, then the background followed by the foreground, and finally the subject. We were treated to a run down of his kit, and tips on how he got the images, which he described as "taking the pictures I like". I think this is one of the most important aspects of photography which we all need to remember.