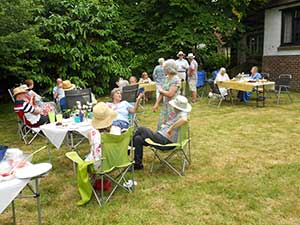 The weather forecast was a bit uncertain, but in the event it turned out to be perfect for our summer tea party This year it was held at Chairman Janet and her lovely husband Dave's beautiful garden. On one occasion when visiting, maybe a few years back, I looked out of the back of their house and their garden, which is average in width, but very long, looked a touch wild (very good for wildlife!). Now that they both have retired it is a picture, still with an area dedicated to wildlife, which is accessible and was viewed and admired by several members, who were all very impressed with what they saw.
So, the venue was perfect and so was all the organisation carried out by Janet who always works her socks off to get things right for SCC. 
I would like to mention here her mate Liz who helps her frequently and had done so for the recent Storrington Village Show where we had a stand. Liz had worked very hard providing the Gazebo and the exhibition of a large number of our prints for the public to view, but also a quiz. Very well done Liz and thank you.
Back to the party. Janet had asked members to bring chairs as necessary and items of food for our consumption. There was plenty of everything from sandwiches to scones with jam and cream, strawberries and raspberries, specially baked cakes, ice cream to mention some of the great food available. Tea to drink and other beverages were served throughout  Add to all that a very well attended event and the result was a tea party to remember. The company wasn't bad either with happiness and laughter in abundance.
Thank you very much Janet and Dave.