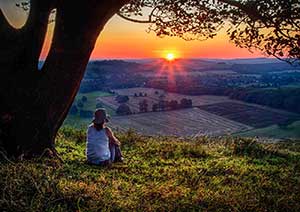 Keith Gibson returned to pass comment on our images, without marks, which was a breath of fresh air as I am sick to death of judges saying what a lovely image he has just appraised and then gives it 16 marks! Soul destroying! Keith has been to see us before to judge one of our competitions.
Janet kicked off proceedings with her Parish Notes which contained nothing of great note, followed by Norman giving the results of last month's Flickr competition, which I have great pleasure in judging together with Norman. That master of the B&W Image has just re-joined us after recharging his camera batteries and blow me and others down, he wins one month after his triumphant return.
Well done Ray and welcome back. Now we have someone else back to 'rib', we await the return of Alex!
Anyway, on with this evening. The first image up was a cracker of a landscape by new member Dean Sephton. It was a nice green hillside with sun rays pouring over from a very low angle giving some brilliant shadows.
There followed some 60 odd PI images of wildlife, aeroplanes, people, helicopters, castles, yachts, abstracts, colour pictures and some B&W, all of which were analysed and any improvements suggested, together with comments from the floor.
Chris our new ARPS man told us that one of his shots was really quite soft and he used a program called 'Topaz Sharpen AI' which really worked extremely well. Well worth a look particularly for me who looks at images and they look fine and sharp to me, but judges disagree!
We shall no doubt see some of these images entered into future competitions and we will see how other judges view them.
The evening was inclusive and interesting and very worthwhile for everybody.
Thank you Keith.