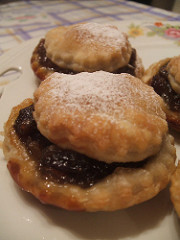 Another year gone! How quickly life moves if you keep busy, and it disappears faster as you grow older. Daisy arrived with a large box of the food, drink and cooking utensils. Our Chairman and Liz also arrived shortly after to help with preparations. Kevin laid out the tables and chairs and before long the rest of the members attending arrived and started to eat the lovely food on offer.
Just over twenty members attended and were soon drinking the mulled wine and having a good chat. After a while the Chairman (what a great Chairman she is) asked everyone to sit and read out her notes from her book.
Then it was liz's turn to start the quiz that she had prepared. On each table was a board with up to three pictures on it of well known events and places, and we had to enter the name of the photographer, (and, on a couple of them, the event or person in the image), on the sheet provided. It transpired that most of us were very ignorant and only managed to name very few of them. The winning table won with four points out of a possible sixteen!!
Then it was time for the best mince pies ever, made by Audrey (It is rumoured that she supplies Waitrose). Also a slice of Chris's fruit cake which was also excellent.
Then on with the jollities and again Audrey took the floor for a quiz that she has prepared. The questions were very varied but we all did a bit better this time.
There was much discussion and debate over several of the answers as Audrey had forgotten her sheet with them on. There was much fun and games and shouting as there was contention about several of them. But Audrey kept order and had the final word.
We owe thanks to Daisy for providing most of the food and drink; Liz for heating up and serving the mulled (non alcoholic) wine, and for organising the first quiz; Audrey for doing the second quiz and for providing the delicious mince pies; Chris for getting up early and baking a cake for us and everyone else who helped make it a very nice Christmas Party.
After that it was 10pm and time to kiss each other goodbye and wish each other a very Happy Christmas.
Let's hope for good health, happiness and good photography for 2019.