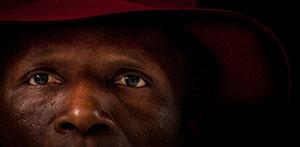 I nearly did not come to this meeting as I had a nasty tooth extraction on Tuesday and felt rubbish up to midday on Thursday.
I was immediately asked to do the write up as Audrey was AWOL and Chris was busy 'up front'; no problem, I enjoy doing the write ups.
Tonight we had one of our very favourite judges who is very skilled and has been a judge at the RPS for years. Trevor Gellard FRPS (Trev from now on) has visited us on many occasions in the past going right back. He had a place in our history for giving the lowest mark ever, nine to some poor soul, and tonight he broke another record by giving the largest number of twenties ever. Trev started off by going through the things he would be looking out for in our work, over sharpening for instance, together with other 'post processing' faults and bad printing.
As usual we kicked off with the prints and the high marks started to come - 19; 18; 20; 20; and there were ELEVEN 20s out of 24 prints. These marks were not given without deliberation and we should be very proud of them. Two members got two 20s each, Daisy Kane and old BW supremo Ray. Very well done both. One of Ray's photographs was taken on the platform at Pulborough station and Trev remarked on there being no trains in sight, obviously not realising the it is served by Southern!
Other 20s were awarded to Anne Nagle, Derek Grieve, Janet Brown, Liz Barber, Chris West, Martin Tomes and Di Walker. Well done to all of them. Trev was asked to choose his Number one choice which went to Daisy for her abstract horses racing, entitled 'Battling it out'. He was also asked to choose a second choice which he gave to my 'Sedge Warbler singing' and Third place to Di Walker's 'Humming Bird Moth'
Trev does not waste words when doing his critiques, and so we reached half time nice and early,
After the break we had the PIs, 28 of them and this time the 20s did not flow quite so frequently. Liz Barber got two, very well done Liz. Other 20s went to David Seddon, Derek Grieve, Janet Brown, Kevin Harwood and Alex Swyer.
David's 'Man in a Red Hat' was immediately awarded First choice and Trev said it was quite outstanding and would do well in Salon competitions. That's praise indeed, brilliant. Second choice was Liz's 'Into the Abyss' which was a very low key picture of some water round a structure, very different, and Third choice was my 'Mating Broad-bodied Chasers'.
If we put the marks for both sections together Liz got an amazing 78 out of 80 points which says a lot about the quality of Liz's work. (Eat your heart out Janet, Liz's chief rival); I was second with 77 marks and Daisy third with 75 marks, if my maths is correct.
As Trevor left he said that we should be very proud of the quality of the work from such a small club. It should give us some good pictures to enter the County competitions next season- so here's hoping.
Thank you Trevor for an entertaining (some of his comments were classic) and a very Informative evening which we all enjoyed and we finished early, great!
I went home quite pleased with myself having had some dreadful marks this season; after all this was the best of year!