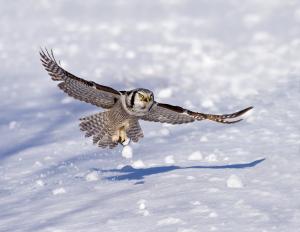 Rebecca Hitchcock DPAGB from Havant Camera Club who specialises in wildlife and landscape shared her experiences of three winter journeys, two in Iceland and one in Yellowstone National Park. The first trip involved a flight to Reykjavik, a bus journey in the rain and a damaged windscreen along the south coast of Iceland. She showed us beautiful photos of a glacier feeding large lumps of ice into a pool that eventually flowed out to sea. Where there is vegetation lupins grow extensively as an invasive species along with mosses and willow trees. She was fascinated by the interesting shapes that the ice floes formed including one that resembled a fish and another that was transparent. Snow bunting, terns, skuas, eider ducks and hooper swans all caught her attention.
The weather did not help but she showed us interesting cloud formations in mountains and a typical church building as well as snipe, puffins, harlequin ducks, red shank and fulmar. A number of "foss" or waterfalls at different locations made many interesting photos.
A second trip to the North West allowed for views of fjords, flooded lava tunnels from ancient volcanic activity. This was an area of hot springs, bubbling mud and geysers with minerals building up into cones. Going inland to the Central Highlands the geological split of Iceland between the North American and European land masses could readily be seen.
Yellowstone in January offered snowy landscapes and some popular sites to photograph including Horseshoe Bend in Snake Valley memorialised by Anselm Adams. Elk were ever present in this part of the park as they came off the mountains to feed and escape the wolves. Standing in the river they would feed off the banks and because they moved quite quickly to avoid the wolves the riverbank area ecology was changing. As well as elk Rebecca photographed muskrats, bison and buffalo, big horn sheep, mule deer and moose along with coyote who carried on a conversation with other coyote as they howled across the landscape. Lodge pine trees with their lower trunk buried in and dusted by snow gave them the nickname "bobbie socks trees". Other sites photographed included Roaring Mountain with its steam vents, a frozen Yellowstone River, Tongle Creek, Biscuit Basin and a number of geysers. Wildlife included bald eagle, goldeneye ducks, dipper and buick swan, prong horn antelope and bobcat.
The presentation was greatly enjoyed by club members and visitors.