The fourth competition night of the 2019-20 season took place on 20 February with Andrew Mills as our judge. He was warmly welcomed to our club by Janet Brown, our chair.
Andrew is a very experienced professional photographer and lecturer in photography. Whilst praising the images, during the course of the evening he gave us many tips for improvement, covering composition, camera technique, post processing and printing. Amongst the tips he passed on were: photos are usually best if the background still has some detail and not totally bland, sunsets need to include something else in the image, wildlife photos should show some natural activity and not just be 'portraits' and never use direct 'on-camera' flash. Whilst judging he looked, in particular, for a narrative and focal point in the images.
In total there were 29 prints and 36 projected digital images (PDIs) submitted into the competition, so it was a busy evening.
The prints were reviewed and scored first: four receiving the full 20 marks, three receiving 19 marks and a further six receiving 18 marks. Janet Brown again led the honours, with the best print of the evening "Searching for grubs" - described as fabulous and having a big 'aaaaahh' factor it showed a young duckling searching for food. The other twenties were also remarkable: two from Daisy Kane "Fallow deer" - a lovely photo taken at Petworth in the early morning light and "The great court" - depicting a magnificent scene at the British Museum and one from David Perks showing a slightly olde-worlde view of "The Causeway Horsham". David's print was not only praised for the quality of the image but also for its mounting, which gave it the look of a postcard. David was asked how he had achieved this effect.
The three prints scoring 19 were: Kevin Harwood's "Always alert" - a beautiful shot of a Cheetah on the lookout for prey, Norman Kirby's "The Getty Center" - showing great control of lighting in a difficult to photograph architectural scene  and Nigel Cherry's "Sheltering from the rain" – depicting RAF personnel sheltering from heavy rain under the wings of a Spitfire of the Battle of Britain Memorial Flight.
The six prints scoring 18 were:
Anne Nagle with "Me and my shadow" – a very nice photo of a frog and its reflection in the water,
Norman Kirby with "Essay on plastic" – a nice abstract, inventive and expressive view of waste plastic,
Janet Brown with "Havana rain" – a very different and novel view of a car approaching down a street which almost defies description,
Kevin Harwood with "Moody sea stacks" – which the judge described as having a lovely 'holy ghost sky,
Anne Nagle again with "A thoughtful moment" – a lovely portrait of two girls to which she had given an antique look.
And Liz Barber with "Mists of time" – which the judge described as really interesting, even though he struggled to make out precisely what it was.
The remaining prints also represented a diverse range of genres and were rich in merit but too numerous to mention individually.
After a break the projected images were judged. Out of the 39 PDIs, only one scored the full 20 marks, two scored 19 marks and seven scored 18 marks.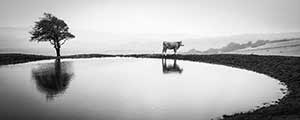 Congratulations go to Dean Sephton, a relatively new member of the club, who was awarded 'best PDI of the evening' with "Dewpond on a misty morning" – an intriguing and captivating photo of a dewpond with a tree and cow at the edge of the pond – a worthy winning shot with plenty of narrative.
The two images scoring 19 were: David Seddon with "Just posing"- a lovely B&W portrait of an ageing hippy, and Andrew Caswell (another newish member) with "The harbour" – showing a stormy sea breaking around a harbour.
The 7 PDIs scoring 18 points were:
Bill Butland (yet another new member) with "Misty morning at the pond" – a highly commended delicate image of a pond powerfully conveying the atmosphere of a cold misty morning
Liz Barber with "Light at the top of the stairs" – a beautifully lit B&W image of stairs in an old house
Janet Brown with "The Emperor's rest" – a lovely portrait of a duck at rest.
Nigel Cherry with "Flames, shock waves & 130 decibels" – showing an RAF Typhoon being scrambled with full re-heat,
Kevin Harwood with "Great White Egret translucency" – a tremendous shot of a Great White Egret in flight
David Seddon with "Isabelle" – a gorgeous B&W portrait of a young girl
David Perks with "Not me! Her" – an interesting photo of squabbling young women
The other projected images were also complimented but are too numerous to mention.
All images, both prints and PDIs, may be viewed by following the links at the head of this report!
Following a very enjoyable evening, Janet Brown brought the event to a conclusion with a vote of thanks to Andrew, whose careful judging and many tips led to a very interesting evening!