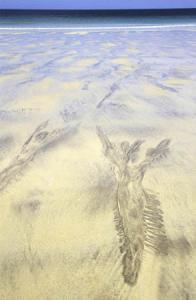 Ruari Cumming ARPS has been photographing the Hebrides for more than 20 years and presented the first of his Hebridean Trilogy with a series of audio-visual journeys on four roads to the isles and journey round the Western Isles. Hundreds of photographs of the routes and the islands were included with an accompaniment of suitable music of wide variety.
The first road to the isles went through Argyll and Glencoe and took in Islay and Finlaggan Castle, seat of the Lord of the Isles until 1493 when the title was seized by James IV of Scotland. Whisky features prominently in the area. Colonsay and Oronsay followed with links to St Columba before he moved to Iona. Oban, McCaig's Tower, the Clachan Bridge to Seil and Tobermory and Staffa with Fingal's Cave formed another journey with Duart Castle, the ancestral home of the Maclean Clan featuring prominently. After that came Coll and Tiree with a ringing stone and pristine beaches. Fort William, Mallaig and Glenfinnan on to Skye, Kilroy and Dunvegan Castle completed the traditional road.
Virtually all the images were of picturesque sunny scenes that surprised many viewers so Ruari showed us some cloudy, brooding images to redress the balance before he moved on to illustrate the Western Isles including a reminder of the Whisky Galore story from 1941 and the twice daily scheduled air service on Barra. Harris and Lewis completed the journey.
The images were very much travel brochure photography material but a series of sand images provided an interesting contrast of abstract photography from Colonsay that formed the basis of his ARPS panel.