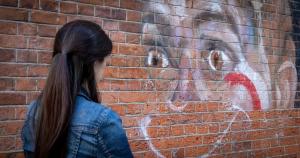 For our second meeting of the season the Chairman of Bognor Regis Camera Club, Bill Brooks LRPS was invited to review our images, make an appraisal and give advice but not to score them as in a competition. Bill expressed himself as impressed by the range of subjects and the quality of the images in such a small club. He made a number of suggestions as to how the image might best be used in settings other than competitions.
Kristina Byng's image of her granddaughter sitting on rocks beside the sea was definitely one for the family album and a print or as part of photobook. A very small spider captured by Derek Grieve on his bathroom window on an iPhone gave an interesting semi-abstract image with the natural history element contrasting with the prism like effect of the window glass. A debate ensued over the character of the boatman in Janet Brown's film set image. . The lighting was fabulous and the pose emotive. He would like to see a large print. The head of a grey horse in a stable by David Seddon impressed Bill who described it as a lovely image of a gentle animal that was well lit. Norman Kirby's ethereal agave took a time to understand as the main image was unusual and the background colourful. Although not a composite it displayed post production skills and would serve well as a pictorial print. A weed silhouette photographed against a background of two lights required some reflection and it was suggested would benefit from greater balance in the left and right backgrounds. The prevailing wind had clearly caused Dean Sephton's tree on a hillside to grow to one side. The combination of natural and man made materials worked well and the image posed a question. Three red sunflowers lit from behind brought pleasing comments for Jane Coward although a more blurred background could have improved it a little. Shapes can often be visualised in tree trunks and Bill Buckland's monochrome was no exception. The horizontal light had created distinct contrast to make the shapes stand out. It was suggested that this might work best as part of a set of images. The contrast in two buildings in Havana, Cuba from an image by Chris West was noted by Bill as he posed the question what the watchman was watching? Nigel Cherry had found a different way of depicting the iconic St Paul's Cathedral through a barred window at Tate Modern. A silhouetted visitor looking out enhanced the image. It would have been difficult to get a consistent focus front to back. Daisy Kane's poppies was a welcome image with a couple of flowerheads sharp in the foreground and more diffused shapes in the middle ground. Seed heads of grass rising above the flowers helped lift a somewhat neutral sky.
There were two many other images to report on here but the exercise, a regular feature, was well received and the detailed review and opportunity for photographer comment was much appreciated.