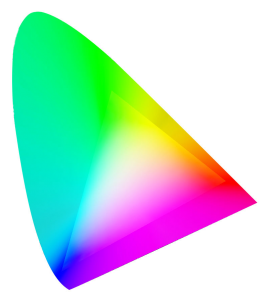 First meeting of the new year started with Janet's Parish notes and then on with Martin's talk about colour management.
This is something that I used to do before I got my iMac but since then I have not found it necessary for the standard of printing that I do these days, but my standards would not suit the likes of Liz and Janet and other very good photographers.
Martin started by telling us why we needed to manage colour both in our cameras, our computer screens and finally our printers. He showed us how the different colour spaces varied with the spectrum and how they are covered by sRGB, AdobeRGB and ProphotoRGB.
Then things started to unfold in a very professional talk with many diagrams and tips on what should be done.
Our screens need calibration but these days and if you buy a decent one you can get very good results.
However you do need to calibrate printers when using different photographic papers to obtain the best results, and then store different profiles for all these different papers. He did say that if you use an Epson printer with Epson papers and Epson Inks, or Canon papers with Canon inks using a Canon printer you should get reasonable results. For those who are more advanced and use different exotic papers, then you really do need to step up to get the best end product.
We are very lucky to have Martin as a member as his technical knowledge of matters photographic are second to none. The way he had prepared tonights talk bringing in a printer to demonstrate what he was telling us was above and beyond the call!
Before the break he explained how to set up your printers and after he demonstrated the finished job using the clubs calibration tool which members can borrow free of charge. I also have one somewhere which I hope I could find if anyone wishes to borrow or even give me a few shillings for, which I would give to the club.
I said to Janet at half time that I was going to find it very hard to write up a suitable report of Martins talk, but she lightly dismissed my discomfort and told me to get on with it.
Luckily Martin edits my ramblings so he can put any rubbish that I have written straight.
During the break Norman appeared, having been to another venue, and he announced the results of December's Flickr competition. Last month the winner again was Dean Sephton with a very dramatic trio of B&W images of some ancient trees which really made an immediate impact to the viewer. Daisy's three images were of a very large and colourful tree split into three. Very well done to both.
We all had an extremely interesting evening which Martin must have spent hours preparing. Thank you Martin