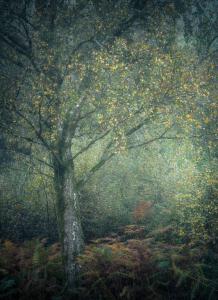 Paul Mitchell FRPS gained his distinction with a set of pinhole camera images and visited the club to show us his panel and to talk about woodland photography. This was only his second face to face presentation in two years. Paul is a graphic designer by profession but has always also been a photographer plying his craft in many genres.
Woodland photography has been an special interest for a couple of years as it provided an opportunity to get out during the pandemic lockdown and Paul found it cathartic. He is chair of the RPS visual arts panel and is a member of arena photographers and Landscape Collective UK. He has been influenced by artists such as Turner, Paul Sandby, Albert Bierstadt and photographers Peter Dombrovskis, Shinzo Maeda and Christopher Burkett. His main kit includes a Nikon Z2 and 50mm 1.4, wide angle and telephoto lenses as well as a macro lens. Because of low light levels in woodland a tripod is essential.
He recommends "Reach into the woodland" to avoid the capture of largely uninteresting sky that often comes from using a wide-angle lens. He prefers picking an element of the woodland and photographing the broad detail with a telephoto lens as it is possible to step back and not change the perspective that would occur with say a 50mm lens. This approach also allows compression that keeps the foreground in focus yet brings the background forward a bit. With mist and fog you also get depth. Auto white balance he suggested often gives a colder impression of the subject, so he prefers to use cloudy white balance to warm the image up.
Composition is something that people often struggles with in woodland. Paul uses a simple device, a black plastic frame with a rectangular hole that can easily be held up to view the scene, be moved about to frame a potential image and create the composition. Commenting on critics of post-production he quotes Ansell Adams, "Dodging and burning are steps to take care of mistakes God made in establishing tonal relationships."
The main presentation showed woodland scenes throughout the year starting with Spring. Each season was introduced with an image taken at the same location at Burnham Beeches in Buckinghamshire. Other locations were Micheldever Woods, Moors Valley near Ringwood, Dewerstone Woods on Dartmoor, the New Forest and Savernake Forest.