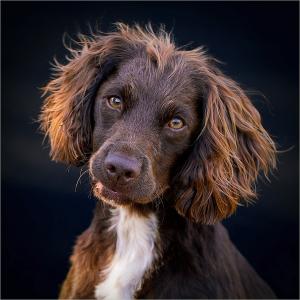 Beyond the club photographic circuit are numerous inter-club, county level competitions and on this occasion we were hosting the sixth round of the Southern Counties Photographic Federation digital image league. Seven clubs from Gibraltar, Isle of White, Southampton, Andover, Fareham, Sandhurst and Basingstoke joined us with each providing eight images that are judged over eight rounds.
This year we had been promoted into a different division and met some unfamiliar clubs all of which had some excellent digital images. At the start of the session, held via Zoom, we were lying fifth in the league. The judge was Rob de Ruiter ARPS, a very experienced judge on the circuit and a member of a neighbouring Bognor Regis Camera Club. With Gibraltar in the group we expected to see the Rock or apes but there were none.
The images were all marked relative to one another in a range from 6 to 10. Five images scored 10. An early leader was a portrait of "Fred the Dog", well-lit and beautifully sharp Fred merited another biscuit. "Construct a hexagon" showed a drawing on textured paper with a pencil lit by two light sources providing shadows strategically located to intersect corners. It was something different. "The multi-coloured sky" was from a totally different genre. Even though it needed a very thin keyline to define it from the background it was placed among the very best. Two hares came next with the title "Are we being photographed?". The focus was wonderfully controlled, and the image was razor sharp. "Lone sentry" was a llama or alpaca. Silhouetted against a moody scene lit by the setting sun. Drama came from the cloudscape.
Storrington's images included a mono image of a photographer on the edge of a modern architectural feature by Chris West ARPS, a slalom competitor in the World Cup by Janet Brown ARPS and a small boat shot at Hastings by Martin Tomes LRPS. Another mono image of a small boat on a tranquil sea close to shore by David Seddon was joined by a portrait of a man assimilating bad news. Nigel Cherry also had two images, one of a cheetah in the Masai Mara and another of a Thames barge type boat thundering towards the photographer. "Eyes on the ball" showed a terrier chasing a ball taken by Kevin Harwood LRPS. These all scored between 8 and 9.5 and the score was enough to see us second on the night and moved up to fourth in the league table.
Results were:
| | |
| --- | --- |
| Sandhurst Camera Club | 73 |
| Storrington Camera Club | 70.5 |
| Sandown, Shanklin & District Camera Club | 70 |
| The Practical Camera Club | 67.5 |
| Gibraltar Photographic Society | 65 |
| Oakley Camera Club | 64 |
| Andover Split Image Photographic Society | 63.5 |
| Fareham & Porchester Camera Club | 59 |