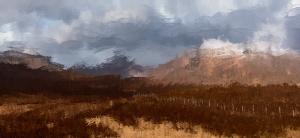 The 2nd and 3rd PDI competitions of the 2020-21 season both took place on 3 December 2020, the print competitions having been postponed because of Covid 19.  The competitions were held via 'Zoom' and judged by Keith Gibson; a very experienced judge, well known to most club members. Throughout the evening, whilst reviewing our images, Keith gave welcome and well considered suggestions for improvement. He had been sent the images beforehand enabling him to study them in detail. He praised the quality of the images.
Best images of the evening
The best images of the evening were: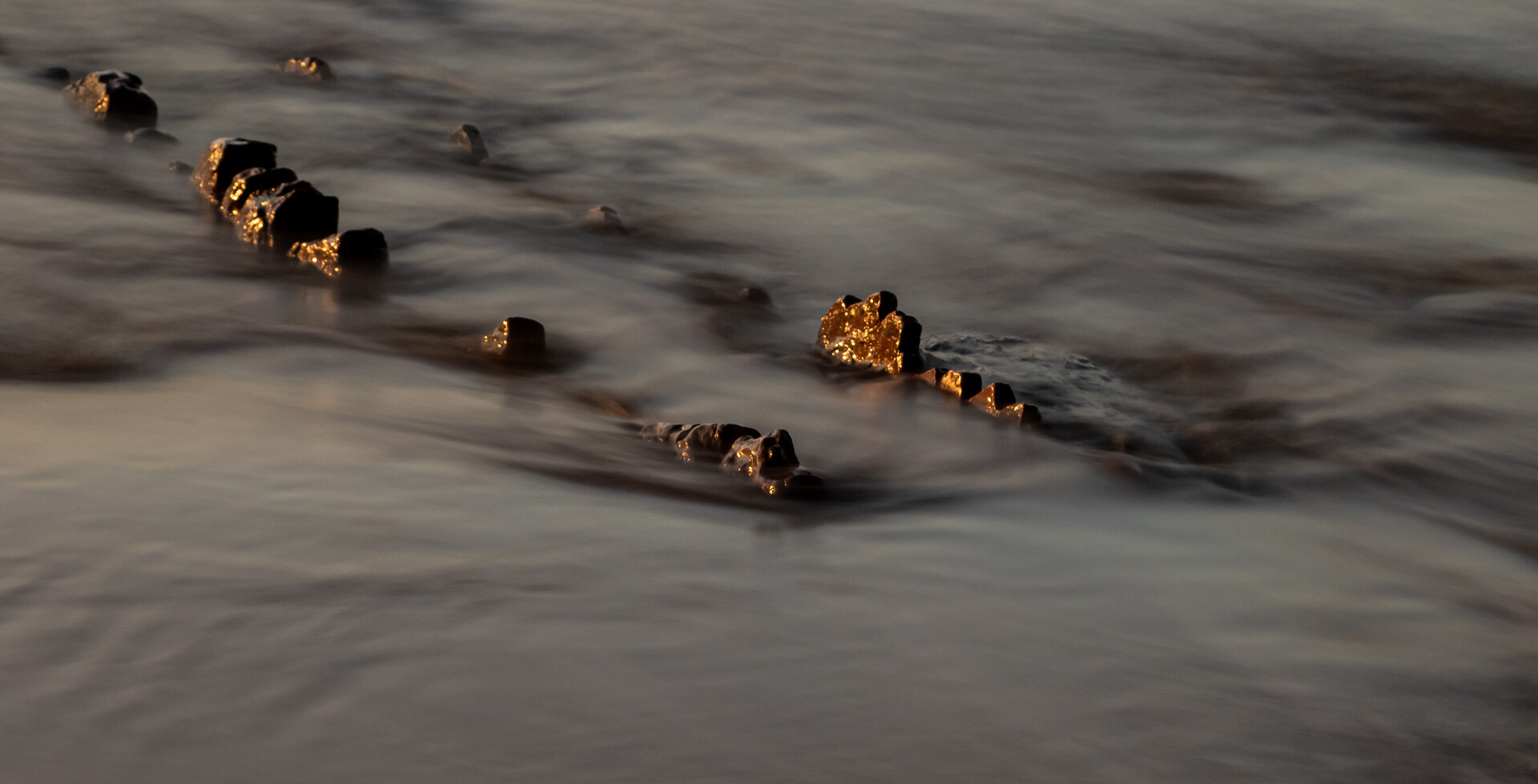 Competition 2: "Crocodile teeth" by Janet Brown – an artistic interpretation of sea water flowing around stones protruding from the water and resembling a crocodile; the shutter speed having been chosen to create an impression of motion.
Competition 3: "Autumn in the Highlands" by Liz Barber – a very creative abstract view in the Highlands of which the judge said "This is beautiful and although abstract, I can see everything I need to see!"
Results in more detail:
Competition 2:
In total there were 34 Projected Images and of these 3 scored the full 20 points, 5 scored 19 points and 5 scored 18 points. This is indicative of the high standard in the club.
Apart from Janet Brown's "Crocodile teeth" the other two images scoring the full 20 points were "Look out on the Masai Mara" by Nigel Cherry – showing a leopard peering out through thorns about which the judge said "WOW!"  and "Magnolia in flower" by Daisy Kane which the judge described as "an exquisite treatment of a flower".
The five images scoring 19 were Martin Tomes - "Stillness" – a lovely riverside view with immense atmosphere and exquisite reflections in the water. Janet Brown – "An illusion" – a stunning image taken in the entrance area of a shopping centre; the floor of which creates a wonderful illusion. The judge gave hints as to how this could be further improved. David Seddon – "Beach in a storm" – a very dramatic view of a storm moving fast over a beach. Liz Barbour – "Pink Anenome"- another masterful interpretation of a flower from Liz showing immense skill and beauty. Kevin Harwood – "Drying off" – a nice natural history study showing a young family of storks perched in the top of a tree.
The five images scoring 18 marks were Anne Nagle "Glossy Starling" – a lovely and striking bird portrait), Martin Baker ("Wisley Glow" – a very colourful and imaginative view of coloured lights with reflections). Chris West ("Nothing to see here" – a highly camouflaged, yet striking, view of a crocodile). Kevin Harwood ("Approaching storm" – a dramatic view of a fast moving storm) and Chris West ("Audacious and Curvaceous" – a very interesting view of intricate timber roofs.
Competition 3:
In total there were 32 images in all and the judge felt the standard was higher than in competition 2. In all 5 images scored the full 20 marks, 4 scored 19 points and 7 scored 18 points. The number of high scores reinforces the high standard overall!
The 5 prints scoring 20 points were Liz Barber – "Autumn in the Highlands" – the best image of the competition, already described. Norman Kirby – "Harbourside" – a wonderful image of the stern of a boat with fantastic colours – the judge said he would print it out large and put it on his wall! Kevin Harwood – "Swallow-tailed preening" – a cracking close-up shot of a beautiful bird, the colours blending magnificently. Nigel Cherry – "Gotcha!" – showing a close-up of a heron having just caught a fish – the judge's reaction was "WOW!". Janet Brown – "World Cup Slalom" – a great action shot of which the judge described as "as good as it gets, perfect".
The 4 images scoring 19 points were Nigel Cherry – "Thundering towards us!" – a really strong B&W study, and unusual view, of a Thames Barge whilst racing. David Seddon – "Different Angle on a Tourist" – an amazing, very creative and largely B&W view of a tourist highlighted in red.  Anne Nagle – "Puffin Landing" – a very strong image of Puffins, showing interaction between them. Martin Tomes – "RX89" – depicting a fishing boat surrounded by seagulls "ouzing atmosphere".
The 7 images scoring 18 points were Martin Baker ("Long Black Cloud" - a dramatic landscape with clouds as the main subject), Kevin Harwood ("Newark Priory" - a beautifully produced B&W image with drama in the sky), Janet Brown ("The Red Balloon" – a nice scene of children playing in a town square),  Daisy Kane ("Autumn Palette" – a nice woodland scene processed to look like a painting), David Seddon ("Misty Morning, Hvar" – a creative B&W shot of water meandering towards the sea, with a yatch in the distance), Dean Sephton ("Faded Beauty" – a very creative view of a flower past its best) and finally but not least, Anne Nagle ("Little Owl Snoozing" -  a delightful portrait of a Little Owl).
The judge's detailed comments on all images, from both competitions, may be viewed in the attached files. The images themselves may be viewed by following the links at the head of this report.
Following a very enjoyable evening, Martin Tomes brought the event to a conclusion with a vote of thanks to Keith, whose careful judging and useful suggestions gave a very interesting evening!