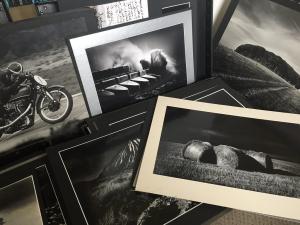 Graham Devenish ARPS knew Chris Peet, a resident of Hove and an internationally renowned photographer who photographed Sussex landscapes amongst others in a distinctive monochrome style. A contemporary of Bill Brandt he had a similar style and was influential to many current photographers including Iain McGowan FRPS, who spoke to us recently. After his death in 1997 Chris's images were seemingly lost until on a chance encounter at Gatwick airport; in 2015 Graham's colleague Frank Bull met a couple who had 150 of them and gave them to Frank and Graham. Among them were motorbikes, trains (Chris had a model railway in his garden), landscapes and cycling. Chris cycled everywhere, including taking 3 days to cycle to give a talk to Edinburgh Photographic Society whilst he sent his prints by train and being the only camera club judge to arrive by cycle. He made few portraits.
Chris used Pentax cameras most of the time and printed on Agfa fibreboard paper in the darkroom. His signature style was to highlight the light in his images to contrast with deep blacks. The light was not always natural. "Liquid sunshine" or ferrocyanides were sometimes employed. Graham displayed many of the prints, now over 30 years old. "You need to smell the prints", he said as he spoke to projected images. Initially these were of South Downs views, the folds of the hills revealing paths and fences highlighting leading lines and fierce skies with black clouds. Chanctonbury Ring before the 1987 storm was a frequent subject as were ploughed fields with their geometric lines. Crepuscular light shining through trees required no "liquid sunshine". Cuckmere, Alfriston, Birling Gap and the Seven Sisters also featured along with the Upper Beeding cement works and River Adur. After motor bikes and trains Graham showed us scenes from Dungeness, Bamburgh and Scotland as well as Cornwall and its ruined tin mines.
As Chris had destroyed the negatives this was a unique collection and Graham and Frank are honourable guardians of an incredible man.