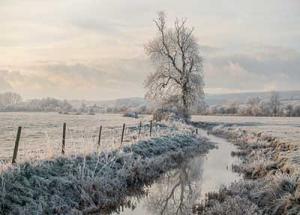 The Best of Year competition was the final competition of the 2019-20 season. Delayed by the Covid19 pandemic the competition finally took place on 10 September by Zoom. Our judge was Paul O'Toole who is well known to the club. Based in West Sussex and a member of the Worthing camera club, Paul is a keen amateur photographer and a distinguished and entertaining judge. He has a special love of wildlife photography. His comments and tips were well received. Paul had been sent the prints (and PDIs) beforehand so that the actual prints were being judged, not PDI versions. Paul praised the club for continuing with both prints and PDIs in these difficult times.
News Headlines:
As this was a very special competition – the 'BEST of the best' – special congratulations go to Dean Sephton and Martin Tomes.
Dean's image 'Dewpond  on Misty Morning' was judged the best PDI of the year. This was a B&W image which the judge described as 'Delightful, gorgeous, well composed, perfect lighting and basically lovely!' This was a very worthy winner and everyone congratulated Dean.
Martin's print 'Frosty Bramber Tree' was judged the best print of the year. This was a beautiful composition which conveyed well the feeling of cold, as a stream meanders past a frost laden tree in a frosty landscape. Another well deserved winner and a stunning print.
Results in more detail:
Projected Images (PDIs)
In total there were 26 Projected Images and of these 3 scored the full 20 points, 2 scored 19 points and 4 scored 18 points.
Those scoring 20 points were:
David Seddon – with an excellent and lovely portrait of an 'Orang-Utan', showing the beauty of these rare animals.
Anne Nagle – 'Jackal Patiently Waiting'. The judge said this image really stood out – he loved the gaze on the animal's face and the dew on the grass, which added to the effect.

Dean Sephton – 'Dewpond on Misty Morning' who delightful image won best PDI of the of the year and featured a cow and a tree beside a dewpond in the South Downs. Viewing is highly recommended!
The two images scoring 19 were:
Kevin Harwood – 'Fishing surprise' showing a fish almost leaping into the mouth of a beautifully photographed bird.
Liz Barber – 'Floral Dance', a very delicate image of a flower, very well presented in a way that only Liz can do!  
The 4 images scoring 18 were by: Norman Kirby ('Abstract Hellibores' – very striking abstract image of helibores, with a sci-fi feel), David Seddon ('Just Posing' – a very engaging portrait of a 'rocker' in his prime), Anne Nagle ('Alert Hare' - a well captured image of a startled hare in a field) and Nigel Cherry ('Flames, shock waves and 130 dB!' showing an RAF Typhoon being scrambled')
Printed Images
There was a total of 25 prints, 2 scored 20 points, 3 scored 19 points and 8 scored 18 points.
The two prints scoring 20 points were:
Kevin Harwood – 'Always Alert' showing a beautifully worked B&W image of a cheetah on the look-out.  The judge was full of praise for this image which was a close 2nd for best of year.
Martin Tomes – 'Frosty Bramber Tree' which won print of the year – a technically perfect image, which conveyed a strong sense of cold and desolation on a cold winter's morning.
The three images scoring 19 points were:
Anne Nagel – 'Puffin on water' a well captured print of a Puffin landing on water, with lovely reflections.
Liz Barber – 'White Poppy' a very delicate and beautiful print of a white poppy, accomplished with great skill.
Nigel Cherry – 'All because the lady loves …. Fish!' showing a mating ritual between two Kingfishers – the male passing food to the female.
The 8 images scoring 18 points show the high standard overall and were: Janet Brown ('Wintry Parham' - a stunning image of Parham House in winter), Kevin Harwood ('Meandering Light' – a river meandering its way to the sea), Martin Tomes ('Busking' – showing a musician busking away watched by passers-by), Tim Healy ('Stokes fires up' - a well captured cricket scene), Nigel Cherry ('Anticipating lunch on the Masai Mara' – a well captured image of a leopard), Janet Brown ('Havana Rain' – a very different street view of Havana in the rain), Dean Sephton ('Cyanotype – Kingley Vale Yew' – a rare and very interesting cyanotype image of a Yew tree) and Norman Kirby ('The Getty Center' – an interesting architectural image cleverly taken in tricky lighting).
The judge's comments on all images, both prints and PDIs, may be viewed in the attached files and the images themselves may be viewed by following the links at the head of this report!
Following a very enjoyable evening, Martin Tomes brought the event to a conclusion with a vote of thanks to Paul, whose careful judging and humorous commentary gave a very interesting evening!