General Notes from the Chairman
Another year another newsletter – roll on retirement when I will be able to spend real time on photography! Seriously, time flies by at a pace and our members get better and better at their hobby – or is it obsession. Life at the top is now very crowded – see the results on the website to see how close our leading lights are to each other. Talking about lights I was really pleased when my photograph of electricity came out top in the power print competition! I was equally pleased to see how excellent the top prints and projected images were this time round. Motion never seemed so moving!
Perhaps some explanation is due for the projected images competition. The judge had not seen the definition of motion given to us by Tim and so the judging struck a particular note that left some pictures out in the cold. Judging was pretty erratic anyway. However, I don't think anyone would argue with the top image – they were there because they were the best and deservedly so.
Leslie Cutting's visits are always well received and this time was no exception – 'High Pass' seems to be flavour of the month after John Gauvin's instruction followed by Leslie – have you tried it yet? … and what about off camera flash – Martin's demonstration was fascinating.
Keep shooting – or is it snapping?
Peter
Print Competition No 3
5/2/09 – Set Subject "Power"
Judge Walter Benzie
Our judge for the competition was our old friend Walter Benzie making his second appearance this season. He always delights us with his humour and his comprehensive critiques of our pictures. To those who got any poorish marks – including me – I hope his comments were helpful in showing how to do better in future.
He awarded five 20s, six 19s and eleven 18s (about a third of the total entries) once again showing us that he thought that the standards of our club are high (and I think rising).
The subject produced some very ingenious pictures some of which really got one wondering how on earth they were done. The winning picture was one of those, taken by our chairman Peter of a young lady (with her clothes on for a change) holding an electric light bulb which was lit with no visible clue as to how that was achieved – very clever! Well done Peter.
Other 20s came from Di Walker with a very clever picture called 'Harnessing the Wind' which was of a sailing boat's sails filled with wind. Then we had John Gauvin's picture, 'Metering the supply',of some fairly distressed electrical meters; Martin Tomes' picture of a steam locomotive with lots of steam and smoke called 'Steam Power'; and finally my picture 'Fedra_broken by the Wind' which was of a bulk carrier that had been driven onto the rocks at Gibraltar and broken into two by the sea overnight whilst I was there in October last year. I had witnessed part of the rescue of the 32 crew members the night before.
19s came from Peter Picthall's 'Battery Power' of a pile of batteries (well thought out); Daisy Kane's 'Queuing for take-off' – several aeroplanes queuing with lovely lighting; John Gauvin's lightbulb – illuminated by wires soldered to the bulb and then cloned out – very clever indeed and titled 'Thank you Mr Edison'; Jane Coward's 'Horsepower to the Rescue' – a great black and white shot of a horse drawn fire engine; Roger Steven's 'Letting off Steam' – a great steam engine shot; and finally Tim Hulbert's 'Pulling Power' – a shot of a long line of tractors.
18s came from Ian MacWhirter (three in total); Paul Hayward (two in total); Robert Mitchell; John Gauvin; myself; and the judge's most evocative picture of the evening – Audrey Gray's picture (taken during her recent spell in Palestine) of a soldier behind a woman called 'Surrounded and Scared' – very moving indeed. (The reason the soldier was in focus and not the girl was that Audrey was recording his face after an incident.)
The en-print competition had a respectable number of entries this time. The winner was Audrey Gray with another scene from her Palestine trip which had a lot of action in it. Walter said it should be enlarged so that this could all be enjoyed better. So I hope that Audrey will enlarge it and enter it in the main competition in the future. Second was new member Michael Dwelly, with a dramatic shot of a tree bent by the wind, and Third was our en-print leader this season Paul Setford with a very good shot of another steam engine.
A lot of people have remarked on the success of this set subject competition. I tell people that the competitions are the skeleton on which the club programme is hung, and the set subjects are specifically there to make people think and to go out and take pictures to fulfill the brief, which is what people did this time. To all that entered pictures, very well done.
Clive Trusler will run the next competition in preparation for him taking over my duties next season.
Derek
Projected Image Competition No 3
19/2/2009 – Subject "Motion"
Judge Ian Betts
Our third projected image competition saw another high number of entries for the set subject "Motion". Our judge for the evening, Ian Betts from Henfield Camera Club, gave good constructive analysis of many of our images, though sometimes, just when I thought he was going to award the marks, expanded further. At one point it seemed that we would overrun our allotted time and Ian, by his own admission, realised that he would need to speed up to complete the judging, particularly with 20% of the entries held back for further consideration.   From an analysis of the results, it seems that we, as a club are definitely improving. The average score for the first PI competition was 15.98, the second competition averaged 16.09 and this 16.65. Or is it that we found the subject of "Motion" too easy. I think not. I am sure you will agree this season's set subject have been challenging and have stretched our imagination and inventiveness with motion detected through moving objects, vehicles, birds and animals to static objects, some with moving parts and others implying that they represent the idea of motion.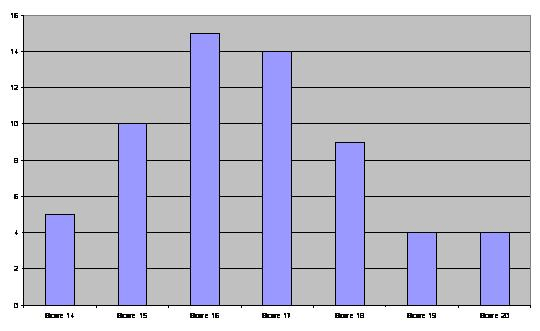 Overall seventeen images scored 18 or more on the night, and congratulations should go to all of them. The images scoring 18 were submitted by Martin Tomes x 2, Tim Hulbert x 2, Jean MacWhirter, Ian MacWhirter, Peter Michell, Derek Grieve and Jane Coward. Those scoring 19 were "Just Landed" by Anne Nagle, Paul Hayward's "The Ball's Mine" and "Look Only One Hand" and  my "Tumbling Dice". Congratulations should go to Anne for her first 19 in Projected Image competitions.
The four images scoring 20 marks were "Tight Formation" by Derek Grieve, "Southern Hawker Dragonfly in Flight" by Ian MacWhirter originally given 19 by the judge and then quite rightly uprated to 20, "Hammer and Anvil" by Jane Coward and my "Rounding the Buoy" which was also classed as best of the night. Congratulations must go to Jane for her first 20 and for what was for me, a superb image.
John Gauvin