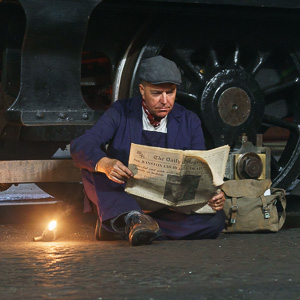 "Inspire" - just as a model railway and going to primary school alongside the Great Western mainline led me to a career as a Civil Engineer so a model railway and Kodak Instamatic camera led Neil Cave to a career in photography with a strong railway content. Neil now owns Timeline Events (TLE) the company which arranges over a 100 photshoots a year mostly with an engineering and heritage slant.
Neil outlined his life story from that Instamatic via a real variety of jobs in the photographic industry to running the highly successful TLE. Along the way he dropped the names of various companies he'd worked for and cameras and other equipment he'd owned.
But equally fascinating was "Capture" when he let his pictures do the talking via a series of slide shows.
These certainly moved along a at quite a pace - to quote an appropriate poem - "each a glimpse and gone forever". Railway scenes and locomotives were interspersed with aircraft, boats,fashion, cars, portraits and recreated historical scenes. I think we'd all have appreciated some more time with each image to appreciate its interest and quality. But it was good to be reminded how good the music of Dire Straits is.
Neil revealed at the end of one run of the projected slides that they'd all been taken on his phone - when projected they were indistinguishable from those taken on the top of the range DSLRs - the best camera is indeed the one you have with you.
If this was a little chastening then the "Print" section was a real wake-up call.
I have to admit I was expecting this to be a few hints and tips on the mysteries of printing. What we got was an alarming exposition on the permanence, or rather the fragility, of back ups be they on local disks, other hardware or on the cloud. However sophisticated the methods employed for back-ups we must disabuse ourselves of the notion that they lead to our photography being secure down the generations. Neil's view was that the only way to secure your important photographs is to print them. Even then you have to use only archival quality inks and papers - counter-intuitively it is usually safer to use a commercial bureau for printing the family heirlooms than your day-to-day ink jet printer.
Neil's photography was impressive and his talk was amusing and informative but also touched on some serious issues - particularly the "Print" section. Of course the Programme Secretary's lot is not a happy one, not being able to please all of the people all of the time, and I can understand if some of you found the presentation a little engineering heavy. However consider how many interesting people pictures and portraits we saw and how elegantly the period fashions showed up in their historical context. Of course that context is stage-managed - and very skillfully so - but how else will you get such shots?
So thanks Neil - I'll see you again when I next struggle with my camera in the gloom of the locomotive shed at Didcot. And I'll try not to forget my torch next time.