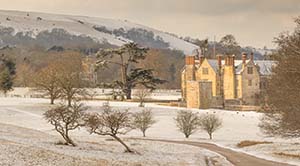 The third competition night of the 2019-20 season took place on 23 January with Paul Graber as our judge. He was warmly welcomed to our club by Janet Brown, our chair. 
Paul began taking photographs in the early 1980's and made the transition to digital photography in 2006; his favourite genres being landscapes and birds. He is a longstanding member of the Guildford Photographic Society, having held most positions on the club executive and has been a photographic judge since 2016. This was his first visit to Storrington Camera Club and he was impressed by the standard and variety of photography …. and slightly surprised by the number of B&W images!  His many positive comments and tips provided valuable feedback to our members.
In total there were 30 prints and 40 projected digital images (PDIs) submitted into the competition, so it was a busy evening. 
The prints were reviewed and scored first: three receiving the full 20 marks, two receiving 19 marks and a further three receiving 18 marks. Janet Brown led the honours, achieving best print of the night with 'Wintry Parham' – the judge described this as exquisite, a beautiful view of Parham House in wintry conditions and all present agreed. The other twenties were also stunning: Liz Barber's 'Joyous', a lovely photo of a flower which has to be seen to be believed and Anne Nagle's "An intimate moment" showing two exotic birds passing food to each other, beautifully photographed. 
The two prints scoring 19 were: Janet Brown's "Smoke dancers" a clever use of coloured smoke against a black background giving the appearance of dancers (we could almost hear the music) and David Perks' "Millbank Curves" which the judge described as 'a brave, bold and interesting' B&W architectural scene.  
The three prints scoring 18 were: David Perks' "Man at Emerald Quay," described by the judge as a nice portrait showing deep into the character of the subject, Nigel Cherry's "Go my beauty!" capturing the relationship between a hawk and its trainer and a second floral offering from Liz Barber "Modest but alluring," described by the judge as lovely in every way.
The other 22 prints also represented a diverse range of genres and were rich in merit but too numerous to mention individually.
After a break the projected images were judged. The quality of these was exceptional giving the judge the problem of how to distinguish between the many excellent photos. Out of the 40 PDIs, five scored the full 20 marks, 5 scored 19 marks and two scored 18 marks. 
The best PDI of the evening was David Perks' "West Worthing Beach" of which the judge said "this has the feel of a painting which I like very much". 
The other four PDIs scoring full marks were: Anne Nagle with her "Jackel patiently waiting" - a B&W image of a Jackal with mischief in its eyes, Andrew Caswell with "Pensive girl" - an unusual street photo capturing the mood of a girl sat in - shelter,  Janet Brown with "Victorian life" - a monochrome image capturing the haunting facial expression on of a mother and daughter in Victorian times and, finally, Anne Nagle with another of her animal masterpieces "Alert hare!", a beautifully sharp image of a hare in a field of long grass and flowers. 
The five PDIs scoring 19 marks were: Norman Kirby with "More beauty to come" – a beautifully colourful image of a flower emerging from a bud,  Chris West with "Paint job" – which the judge described as a very successful image which is simple in many ways, David Seddon with "Brown bear cubs, Alaska"- capturing a playful argument between bear cubs, Liz Barber with "A traveller's rest" – a beautifully handled B&W image with lots of texture and tone and finally, Kevin Harwood with "Fishing surprise"- showing a bird looking startled whilst a fish leaps up, almost into its mouth!
Those scoring 18 points were Martin Tomes with "Terrace" – a very good and wonderfully simple image of a terrace of houses and Dean Sephton with "Leaning tree, Bath Terrace" - described as the best B&W conversion of the night, it showed a tree leaning over in a terrace of houses and contained lots of texture and tone – a very successful image.  
The other 28 projected images were also complimented but are too numerous to mention.
All images, both prints and PDIs, may be viewed by following the links at the head of this report!
Following a very enjoyable evening, Janet Brown brought the event to a conclusion with a vote of thanks to Paul, whose careful judging and many constructive comments were much appreciated!