The first competition night of the 2019-20 season took place on 7 November with Royston Williamson as the judge. He was warmly introduced by our chair, Janet Brown.
Royston is an accomplished photographer with many years of experience. A member of both Guildford and Dorking photographic clubs, his favourite genres are travel scenes, landscapes and surreal topics. He appreciates photographers stepping away from the norm and producing images which generate a strong reaction with their audience, regardless of what that reaction might be. These are things he was looking for amongst our images!
After an initial look through, Royston was impressed by the high standard and variety presented, particularly amongst the prints. He was also enthused to see a number of monochrome images, all to a high standard. In total there were 30 print entries and 40 projected images (PDIs). As he reviewed them he offered useful advice for further improvement, which is always helpful and welcome.   
First to be scored were the prints; 4 of them receiving the full 20 marks, 2 receiving 19 marks and 3 receiving 18 marks. Nigel Cherry's photo of a leopard "Anticipating Lunch on the Masai Mara" was eventually chosen as best print of the evening, praised for its sharpness, colouring and composition. But the competition was stiff. Chris West's two images "Closely contested", a beautiful photograph of racing yachts and "Early Light at St. Cado" were both highly praised, as was Nigel Cherry's second offering "All because the lady loves … fish", a shot of two Kingfishers sharing fish as part of their courting ritual.
The two prints scoring 19 were: Norman Kirby's "Entwined", a surreal image lauded for its wonderful colours (and which Royston said he would gladly display on his wall) and Ann Nagle's "Puffin on the water", a beautifully captured image of a Puffin lading on the sea. Royston confided that Puffins are one of his favourite subjects.
The three prints scoring 18 were: Ray Foxlee's "Commerce in the mist" a monochrome image showing a stunning view of a barge afloat against a misty industrial setting, Daisy Kane's "Touchdown"  an enchanting monochrome photo of a gull landed on the water and Ray Foxlee's "Hey, this is my best side", a very well executed black and white portrait of a Lama, showing an interesting facial expression. 
The other 21 prints represented a diverse range of genres and were also of great merit but too numerous to mention individually.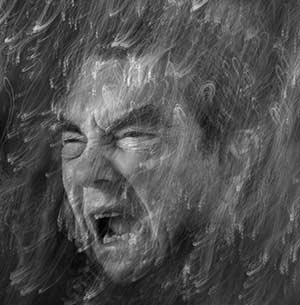 Amongst the 40 projected images were 3 scoring the full 20 points, 2 scoring 19 points and 1 scoring 18 points. Jane Coward's "Beyond the Ectoplasm" was best projected image of the evening and would not have been out of place in a Hitchcock film. It was very creative and full of vitality, yet with a menacing air about it. It left everyone wondering how the image had been created. The other images scoring 20 were both of bird-life: Kevin Harwood's "Inedible even for a Lappet", a very well-crafted and exceedingly rare view of a Lappet ejecting food, and Derek Grieve's "Go away" an amazing image of a squabble between Gulls.
Anne Nagle's "Preparing for take-off" was a lovely photograph of an F-15 fighter aircraft taking off at twilight with full afterburner – it scored 19 points. The second 19 points was awarded to Nigel Cherry's "Love in the shadow" showing a shadow in the shape of a heart cast over appropriate pages of a dictionary.  
Martin Tomes "West Pier" was a creative photo of Brighton West Pier. It scored 18 points and Royston felt it could be worth thousands adorning the wall of a bank!
The other 34 projected images were also complimented but are too numerous to mention.
All images, both prints and PDIs, may be viewed by following the links at the head of this report!
Following a very enjoyable evening, Janet Brown brought the evening to conclusion with a vote of thanks to Royston, whose careful judging and many constructive comments were greatly appreciated!