Great anticipation as we welcomed Keith Gibson from Lewes to judge this season's opening competition. Our chair Janet Brown introduced Keith with an outline of his interests in landscape, street and architectural photography, backed up by a keen interest in hiking, travel and local atmospheric scenes.
Keith set the scene for the evening emphasising that the marks and comments reflected his view and choice and that he welcomed a challenge to his comments, though it has to be said that few were forthcoming! Keith was keen to establish that his top choice out of the 20s would be based on his personal relationship to the picture, not necessarily a "winner" in the conventional sense. That said, on with the 28 prints, which were generally of a high quality and range of topics, confirmed by the fact that of the first 6, half were held back. A great start, overall 16 pictures merited 18,19 or 20, which gratifyingly included the names of  new members and made the rest of us sit up and take notice!  As the evening progressed we valued Keith's gentle constructive comments and marking.
There were 7 scores of 18, first up "Agave" by Norman Kirby, a subject which the judge said was difficult to achieve, well focussed and good quality, he carefully scrutinised the print before awarding the 18; Kevin Harwood's "Tiring day", an enjoyable picture well seen and good use of the light available to highlight the figure; Chris West's "Stranger on the shore", praised for being in portrait form, lovely lighting and the figure on the beach adding perspective, monochrome well chosen, then "Yellow and green" from Martin Tomes a beautifully photographed and presented macro using a very shallow depth of field, with a small area in focus. Then to Janet Brown's "Semana Santa", judged by Keith a job well done, a lovely sharp photo of a solemn occasion in Spain with excellent use of the light; Sarah Beard's "contemplation" up next, nicely seen and well executed and lastly Chris West's "Traffic lights" much admired by the judge for a good after dark picture, which was lovely and sharp, a triangular element in the bottom right corner was seen as good and helpful.
Four of the nine "held back" merited 19, first up Martin Tomes "Water Lilies", impressed with a good quality picture and good use of black areas which complimented the pleasing patterning; Sarah Beard's "Glacier" a very good picture made special by the figures on the ice, excellent texture and lovely photo; David Perks "Red arrows at Dunsfold", caused some mirth and discussion as to the best way up to present the picture, well done David for confusing us all! Keith said that this was a good action shot with brilliant timing and the silhouette against the clouds gave a sense of the moment, finally Norman Kirby's "Labrynth", an abstract, which the judge described as intriguing and very well done, he awarded 19, he personally did not like the picture, but appreciated the quality.
Now to the climax with the following  5 pictures scoring very worthy 20 each with a good cross section of subjects.
Print of the night went to Liz Barber for "Impressions of Skye" which Keith described as a beautiful, clever abstract interpretation of an iconic place, well done Liz in the face of strong competition.  Janet Brown's "Cat and fiddle" fascinated and intrigued the judge with a lovely well seen cameo showing the interaction between the subjects, well lit with a beautiful background; Anne Nagle's "Glassware", a complete contrast with a simple still life, the judge praised the choice of background and muted colours, so very well done to you both. The next two 20s were given for excellent wildlife shots, firstly new member Nigel Cherry with "Prowling on the Masai" a magnificent shot of a leopard, the scene being well set by the thorn branches and the muted background. The judge commented on the sharpness of the leopard's face and jowls, a special well done to Nigel. Kevin Harwood's "Posing beach pelican", drew considerable interest from the judge for the unusual presentation, almost an artistic drawing because of the totally white background, he did question the wisdom of mounting in a white frame, altogether intriguing and good to see "something different".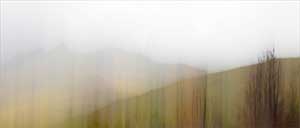 Now to the 32 projected images and you will recognise some names here:-
There were 6 scores of 18, Anne Nagle's "Peony" well done for a beautiful muted interpretation, the judge would have preferred no vase even though it was well integrated into the really lovely well chosen background, then Janet Brown's "Evening light on Alhambra" a sharp low light shot, the inclusion of the mountains and back lighting greatly enhanced the overall effectiveness, in contrast Daisy Kane's "Variable weather on the South Downs" gave a nice local landscape with good composition and the presence of the sheep highlighted depth of field and scale. Liz Barber's "High Lighted" was appreciated for its use of monochrome, the nice idea of the use of the shaft of light and good use of the shadows; Sarah Beard's "Seed heads" was much appreciated for its simplicity, choice of monochrome and well presented picture, Andy Jone's "Postures" gave much food for thought with a great deal to take in said the judge.
Familiar names in the 3 entries awarded 19, Derek Grieve's "Common blue butterflies mating", which the judge described as a good natural history shot with excellent lighting and sharpness, good to see you back in the mix Derek, Liz Barber's "Radiance" a very impressive soft shot, with the flower stem just visible, the square format was appreciated and last but not least Kevin Harwood's "Blue footed booby with chicks" another good natural history shot taken in strong lighting and well chosen depth of field.
So to the five projected images awarded 20, again a good mix of subjects with familiar names rising to the top, well done and a call to the rest of us to meet the challenge.
First up and then awarded PI of the night David Seddon's "Loch Eil", which evoked much praise from the judge, who commented on the well chosen use of layers in the landscape with a generally superb well exposed picture and then in contrast another twenty for David with "Dereliction", a surreal picture making good use of the birds in and out of the broken windows, so well done David, good to see you back with us.  Anne Nagle's "Three frogs" was an amazing capture, well placed with low lighting good crop and reflections, the judge loved it and for what it is worth so did I. Then Janet Brown's "Walking on the beach" a very effective monochrome, creating a sense of mood with a misty background, lots of interest and well timed and placed figures and last but not least by any means, Kevin Harwood's "Swallow-tailed gull preening" a picture well taken and requiring patience and anticipation to catch the moment and the light in the eye with good lighting throughout.  A really impressive group of photos, which set the bar high for the year to come, thank you.
Hopefully the judge's timely comments will enable us all to take comments about our own entries and use them to improve and develop our skills, so thanks to all who entered in the spirit of friendly helpful competition.