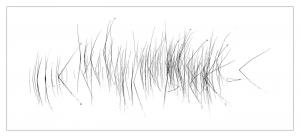 The second competition night of the 2019-20 season took place on 5 December with David Eastley as our judge. He was warmly welcomed back to our club by Janet Brown, our chair.
David has wide tastes in photography, covering many genres; though favouring simplicity in all of his images. Venturing to the wilds of Storrington he was half hoping to catch a glimpse of Father Christmas, either in the audience or in our images, he didn't but he did receive an early Christmas present in the quality of our images! His comments, anecdotes, hints and tips during the evening were amusing, constructive and helpful to all.
In total there were 28 prints and 38 projected digital images (PDIs) submitted into the competition.
The prints were reviewed and scored first: four of them receiving the full 20 marks, three receiving 19 marks and a further four receiving 18 marks. Liz Barber's photo of Reeds in a pond was judged the winning print of the night and was praised for its simplicity; being reduced to an absolute minimum and leaving everyone guessing how it had been done! As always the competition was stiff, the other prints scoring full marks being: Martin Tomes' "Frosty Bramber Tree" which emanated atmosphere and cold, Dean Sephton's "Angles on the Downs," a lovely landscape shot of the South Downs and Liz Barber again with her "White Poppy," a lovely and very restful image of a white poppy.
The three prints scoring 19 were: Anne Nagle's "Scrub Hare" a very skilful photo of a hare, highlighting its long ears, Kevin Harwood's "On the lookout" an amazing photo showing a group of leopards looking for food and Nigel Cherry's "Shaken not stirred", showing a Kingfisher knocking seven bells out of a fish – a photo the judge admitted he wished he had taken.
The four prints scoring 18 were: "Lanner Falcon in flight" by Anne Nagle, "Entwinned motion" by Norman Kirby, "Lubrication" by Chris West and "Light multiplication" by Daisy Kane, which left everyone wondering precisely what it was.
The other 17 images also represented a diverse range of genres and were also of merit but too numerous to mention individually.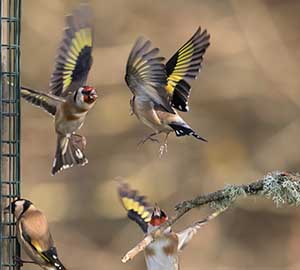 Amongst the 38 projected images were three scoring the full 20 points, two scoring 19 points and two scoring 18 points. Janet Brown's "Fight at the feeder" was judged best PDI of the evening. Full of colour and action, it showed small birds squabbling over food in her garden.
The other images scoring full marks were David Seddon's "Orang-utan" which was praised for its dramatic colour combinations and attention to detail and Liz Barber's "Floral dance" showing a beautiful flower almost dancing on the screen.
Anne Nagle's "Tern hovering with food" was described by the judge as a lovely image and praised for its simplicity – it scored 19 points. David Seddon's "Ageing hippie" also impressed everyone with its atmosphere and colours - it also scored 19 points.
Those scoring 18 points were Derek Grieve's "Common Redshank feeding" which was praised as a strong and interesting image; the mud flats being as interesting as the bird, and Dean Sephton's "Busker" showing the shadow of a busker – this was praised for its novelty!
The other 31 projected images were also complimented but are too numerous to mention.
All images, both prints and PDIs, may be viewed by following the links at the head of this report!
Following a very enjoyable evening, Janet Brown brought the event to a conclusion with a vote of thanks to David, whose humour, careful judging and many constructive comments were greatly appreciated!