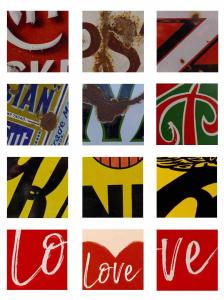 If you want something different in photography, go to Ian McGowan FRPS, a professional photographer since 1993. Never one to have been bogged down in the technical aspects of photography, he has always believed in keeping equipment simple and thoroughly understanding all of its uses. At present he is using a series of digital compact cameras small enough to keep in a coat pocket and which Iain finds gives him a delicious sense of freedom in taking his photographs. The camera, a trusty printer, matte paper and an extensive knowledge of locations are his tools. No computer is in sight.
Ian was making a return visit after many years for More from the Garden Shed. The shed is where he keeps his photos. The evening was one of the best attended and liveliest club events for some time. He does use a traditional single image approach and is renowned for landscape photography, but his particular interest is in exploring texture, colour and industrial themes through a series of 30 to 40 images mounted together on a large board to create a unique montage of his theme. The image displayed is a selection of images of enamelled signs exploiting the textures of the lettering and the ravages of rust. Rust from metal surfaces itself formed another example displayed. His current interest is in the island of Harris where he runs workshops and invites his participants to take 100 images of the ground in a field and then to choose 30 or 40 to create a tapestry to reflective the many colours, textures and shapes. The result is the inspiration for Harris Tweed for which he had another montage of images of the famous cloth.
Whilst not particularly liking cities Ian displayed many reflections of his expeditions in a number of them. An art centre just behind the seafront at Eastbourne with a colourful striped wall formed a stunning series of abstracts of colour and shape. A street in Bradford full of abandoned shops with frontages covered in fly posters created another series of images to reflect a unique image of the city. Liverpool with the Beatles and Birmingham provided further examples. Who would have thought that taking images through a car windscreen on a rainy day would be photographically interesting? Ian has found a way of creating mood and texture in some unusual images. A board covered in drips of paint outside an art shop was also the inspiration for another series of images of sections of the board creating abstract images that looked like textures surfaces with brilliant colours.
He photographs what he enjoys, and Ian encourages us to do the same. "A great evening". Member Galleries: FOCUS GROUP (focusgroupphotography.com)