Here are some tips on how to get the best performance out of Lightroom. Credit goes to Matt Kloskowski and his 5 Tips to Speed Up Lightroom video for pointing out some of these tips.
Optimize Your Catalog
If you have made a lot of changes (like importing, deleting or editing hundreds of files) then optimizing your Lightroom catalog can speed things up significantly. If you have automatic catalog backups turned on then there is a checkbox (checked by default) for optimizing after a backup. If you don't use automatic backups put an entry in your calendar to optimize weekly. All databases need regular maintenance and Lightroom's database is no exception.
You will find this:
On a PC under the File menu - File/Optimize Catalog...
On a Mac under the Lightroom menu.
Import Settings
When importing RAW files under 'File Handling'/'Build Previews' use the 'Embedded & Sidecar' option.
RAW files contain a low resolution preview jpeg image, this option tells Lightroom to use that jpeg as its preview after import. It will take a little longer to import than when 'minimal' is chosen but will be much faster than the other options.

Images which have been imported this way will have a small icon with two arrows in it at the top left of each image in the Library grid.
View Images In The Library
For your first pass at viewing your images view them in the Library. Normally you will see a grid. Either double click or select an image and press the enter key to view the imported preview. You can now move through your images using the right and left arrow keys or by clicking on the film strip. There should be no delay when selecting the next image.
At this point I reject the bad images by pressing the 'X' key and once I have been through them all I press 'G' to go back to the grid view followed by Cntrl-Backspace (Cmd-Backspace on a Mac) to bring up the 'delete rejected images' view then click 'Delete from disc'.
If you go into Develop a RAW conversion will be performed and the preview will be replaced, this takes time.
Use Your Graphics Card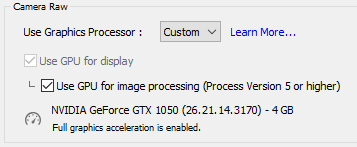 Maybe. This is more nuanced. As of August 2019 Lightroom will use a graphics card to speed up the Develop module. The speed benefit is most pronounced on higher resolution screens. In preferences (Edit/Preferences menu) choose the 'Performance Tab', you will find a section at the top 'Camera Raw' and in that is a tick box 'Use GPU for image processing'. Ensure that box is ticked.
Now for the caveat. If you now see odd things happen when you edit images, like the screen not updating properly or the image appearing corrupted in some way go back and untick the GPU checkbox.
The one harmless oddity is that when you click crop the previous image you cropped might appear and then be replaced by the current one shortly afterwards.
Camera Raw Cache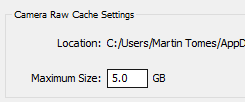 Another setting in the preferences is the camera raw cache location and size. Ideally your camera raw cache should be on a fast disc drive. More imporant though is its size. By default it is set low, I set mine to 20GB. This setting limits how much disc space is used for storing RAW conversions. Increasing this will allow more converted files to be kept on disc so when you go back to them in Develop Lightroom won't have to convert them again.
Make sure you have plenty of free disc space, ideally, even when this cache is full, you will want to have 20% of you disc free.
Don't Write To XMP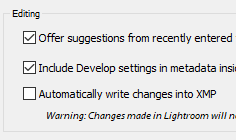 Under 'Edit/Catalog Settings...' and the 'Metadata' tab ensure that 'Automatically write changess into XMP' is unticked. Very few people would need this ticked, if you do then you know who you are.
Disc Drive Speed Matters
If you don't have an SSD as your system drive and you could have one then have one fitted to your machine. Put your applications on that SSD and keep your catalog on the SSD.
I also keep my recent images on my SSD, but that is because I use a laptop and don't want to have to carry an external drive with my images on it so that I can process recent shoots.
And Finally...

Back in preferences/performance there is a link at the bottom of the settings 'More Performance Tips...' which takes you to the Adobe page on Lightroom performance.